The NEW Customer Loyalty program from Sayre Ventures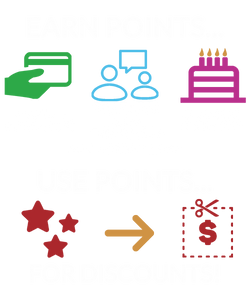 Click the STAR below to get started!
What is this program?
SAVEn (SAyre VENtures for short) Rewards is a new customer loyalty program designed to reward customers for making purchases, referring people they know to become customers, and more. Earn points and use them to get discounts on future purchases!
Do I have to join?
Only if you want to earn points. Sign up here, which will create a Shopify account so that all future transactions can earn you points. If you don't want to join, you don't have to, but you will not earn points. To earn points, you MUST sign in during the checkout process.
Are there any conditions?
Customers may only have ONE account. Please do not create multiple accounts, refer yourself, or other tricks to earn multiple rewards. I'm a small business, and trying to cheat me really sucks - I don't want to have to cancel accounts. So, please stay honest :-)
What if I still have questions?
No problem, I'm here to answer them for you! Just send an email to SAVEn@sayreventures.com and I'll get back to you as quickly as I can.